Learn how we have implemented the Lean philosophy in the manufacturing processes of our uniforms
We have spoken with our collaborator, José Enrique González Jesús, Resp. Production of School Uniforms Camacho, with whom we have talked about his work as Head of the Continuous Improvement Team. Enrique invites us to accompany him in his day-to-day work at the company, highlighting the milestones achieved so far in the implementation of the Lean philosophy. Do you go inside Camacho?
First of all, why did you want to implement a Lean Continuous Improvement system in Camacho?
A Continuous Improvement system forces you to always ask yourself if there is a better way to do things. The want to implant Lean Manufacturing Within our work procedures it was above all to be able to improve processes and study through different tools where we had located necks of bottles and waste, understanding the latter as that which does not add value to our production. With all the work methodology we wanted to reduce production costs, delivery times, improve our quality, etc.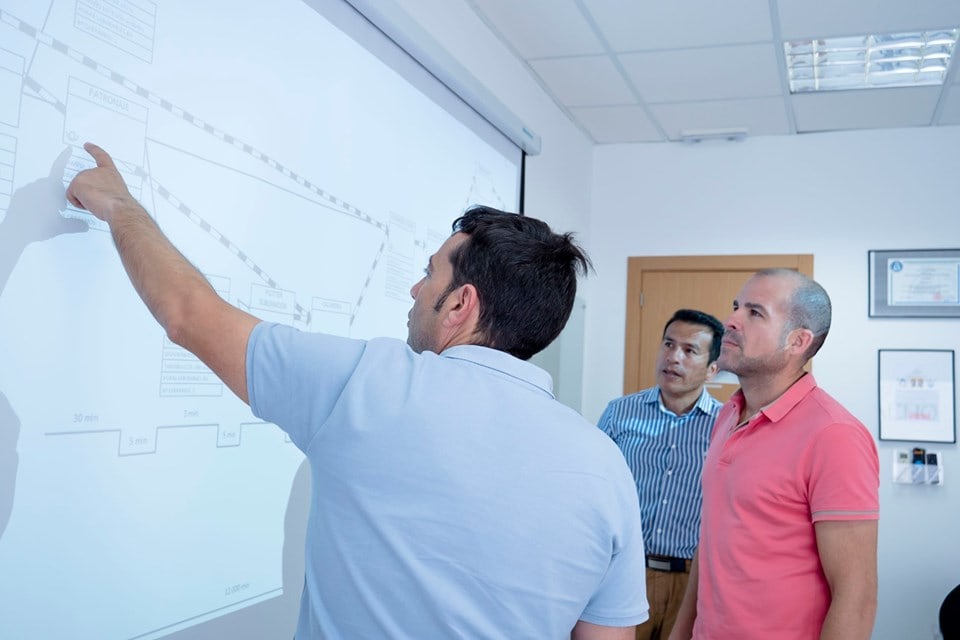 Broadly speaking, how was the implantation process?
The implementation process began with a 5S training, without a doubt the main pillar on which the Lean Manufacturing. It lasted two months and, after this training, we began to put into practice the knowledge acquired through an implementation Gantt for the next 8 months. During that time, different activities were programmed to achieve a correct implantation.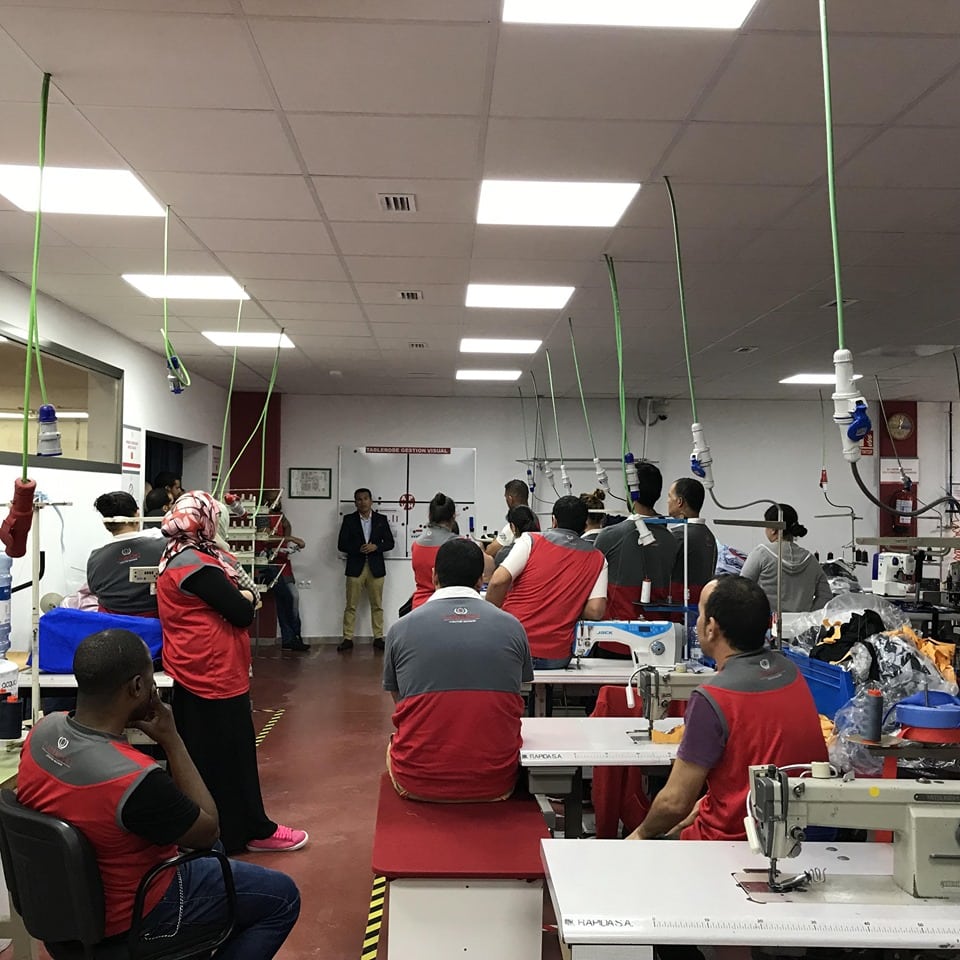 What tools have been implemented and how have they improved the company?
The tools have been several, the most outstanding Visual Management panels, where we apply the Deming Wheel; the PDCA cycle (plan, do, check and act), where through internal audits and standards created we can detect incidents and modify our processes.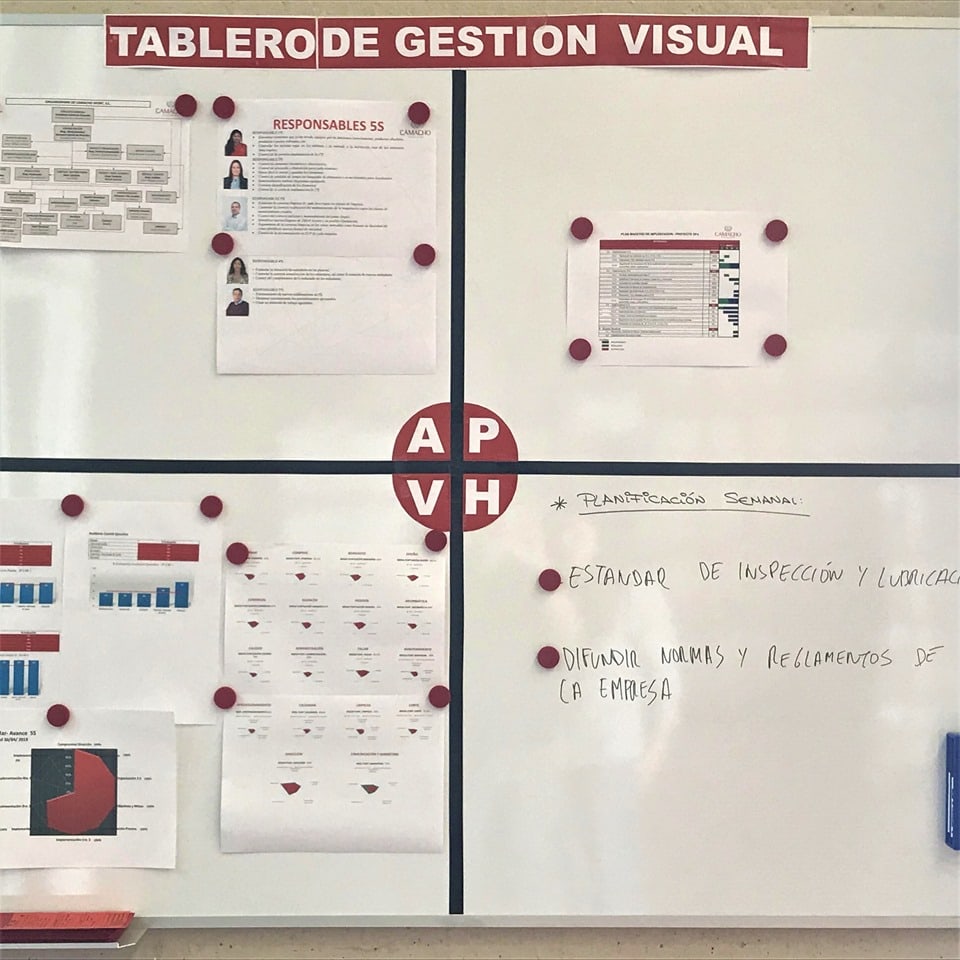 We use semester sessions of spaghetti diagrams to be able to analyze the movements of our collaborators, detect unnecessary movements and see how we can eliminate them. With this activity we have considerably reduced the time that did not add value to daily work.

"In recent months we are working on knowing in an exhaustive way our Lead Time of all our products through the analysis of processes with the VSM tool, Value Stream Map". 
This tool is the main way to detect bottlenecks and those processes that we must change since the VSM forces us to measure any minimum aspect that intervenes in the production of a garment.
What would you say was the key to the project and why?
The key to the project has undoubtedly been the high degree of involvement on the part of the company's management. Management enthusiasm for the Lean philosophy has permeated the employees or, as we internally call ourselves, employees of Camacho Sport.Without this feeling it is impossible that a project of this magnitude would have materialized.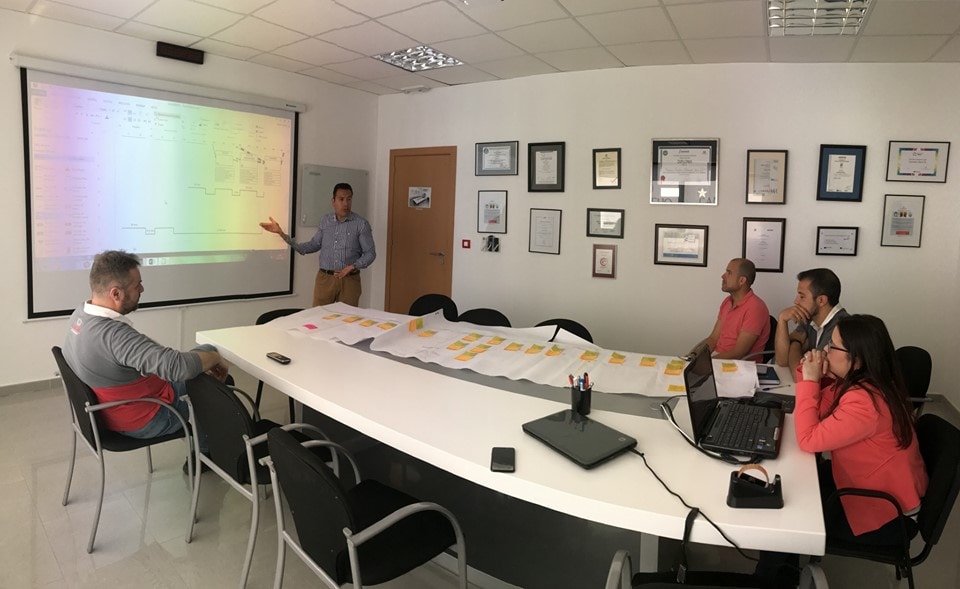 Another very important factor has been the appearance of Professor Edson Aliaga, which has guided us throughout this process, making us see the importance of the implementation of Lean Manufacturing as a differential factor of Camacho Sport versus your competition. And above all also to Camacho collaborators who have managed to combine their day to day with all the documentation that we have had to generate, meetings, formats, etc.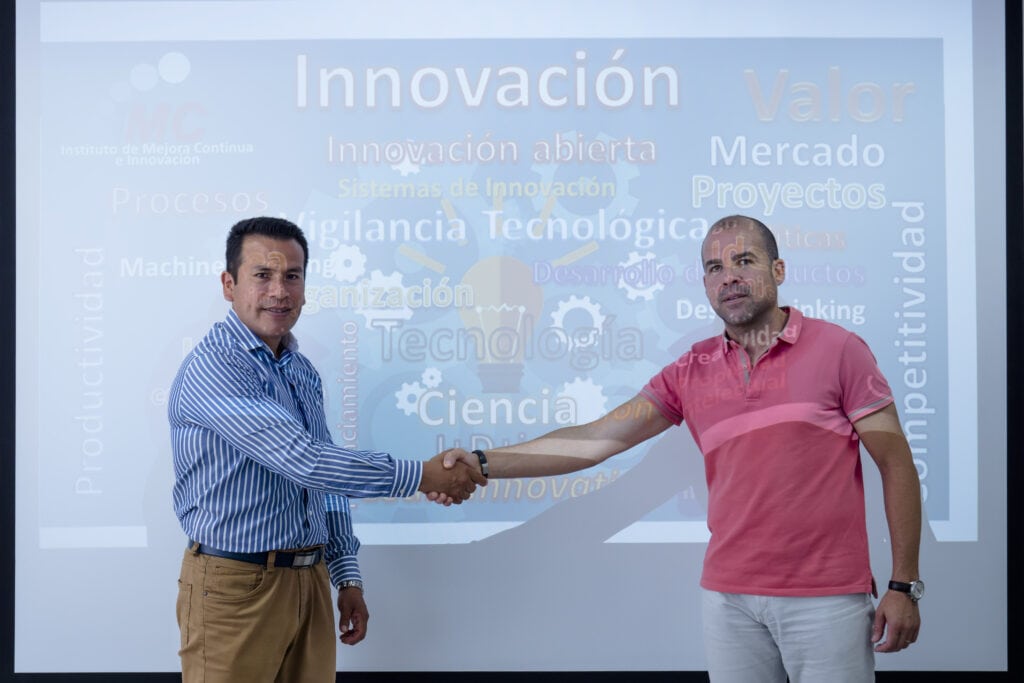 Have there been any changes in the involvement and motivation of the staff?
At first, it is difficult to carry out an implementation of this type but, today, everyone's involvement is very high, the evident proof is that we are always trying to improve and change our way of working, the distribution of the plant, the different processes, etc. Now employees (collaborators) are autonomous when proposing improvements both in the performance of their functions and in any process that they identify as unnecessary for the value chain.

Which ones and why? How is this implication achieved?
 To get workers involved, it is necessary to talk a lot and make them see the importance of changing our work methodology and being able to measure everything that happens within our facilities.
"We have a motto in the way this company operates and it is that" what is not measured gets out of control. " That prayer is deeply rooted among all of Camacho's collaborators and allows us to continue improving day by day. We have managed to create culture !!! "
Which have been the results?. Beyond the operational, how has Lean changed the philosophy of your company?
We analyze the results month by month through the Balanced Scorecard where through some indicators we can analyze what situation we are in, next year we will be able to have annual data and thus be able to compare the different campaigns and see where we need to improve management. The way I see it, what has changed mainly within the company this whole project is to measure everything that happens here, before perhaps that kind of thing was more out of control but, today, we have several formats where we can have controlled any waste that may arise.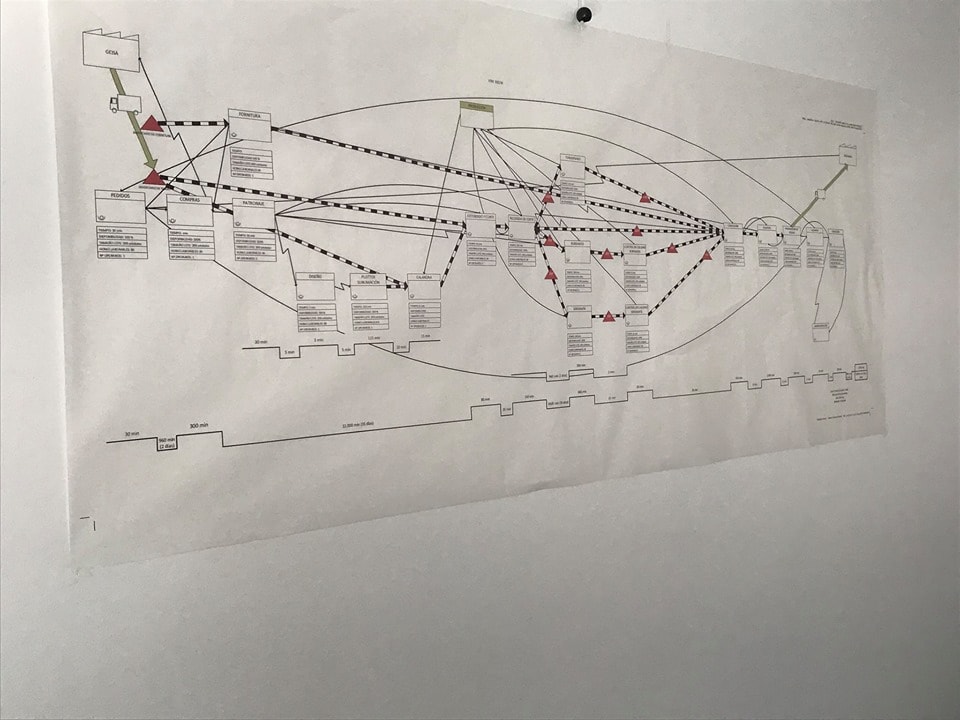 After all this time living with Continuous Improvement, how is its sustainability achieved?
Basically all of this boils down to being committed both as individuals and as an organization to continually improve in everything we do, through understanding the expectations of our clients and the continuous innovation of our services and processes. All of this separates us from the rest and places us in a renowned position in the industry.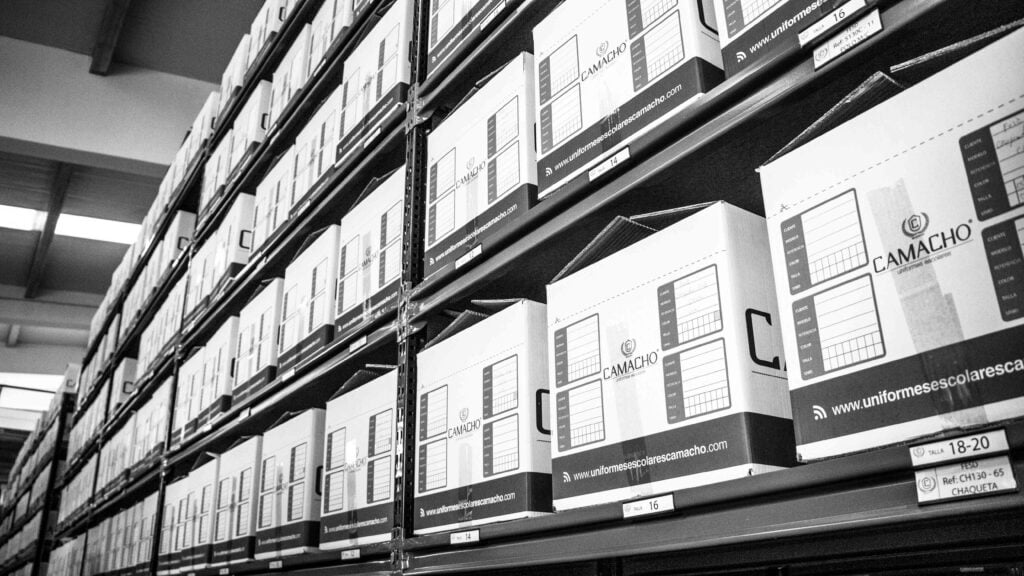 The fifth S, creating culture is the key. Lean is a way of being and living, it is a journey, not a destination. Another important factor is the internal audits in which the Executive team participates to verify compliance with the Lean project, and from where the information from the different departments is obtained. All audits are sent to management and the team in charge of monitoring them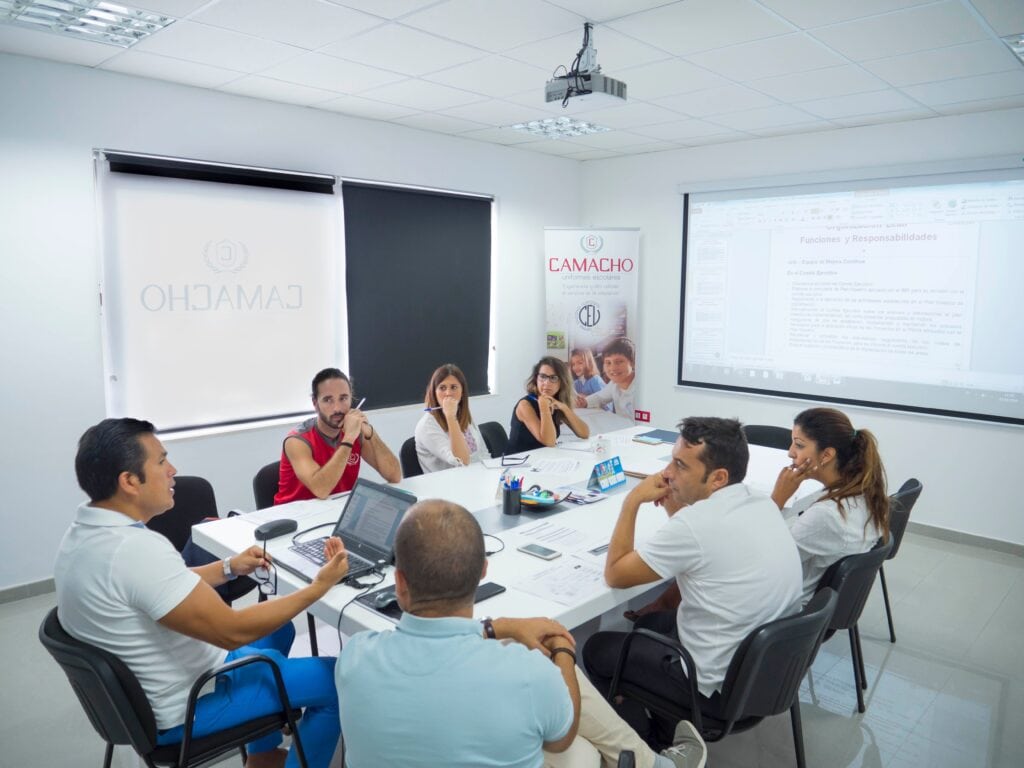 Continuous improvement must be part of the organizational culture, becoming a philosophy of life and work; eliminating errors, minimizing delays, maximizing the use of assets, promoting understanding, commitment and adapting to the changing needs of our clients, and providing the organization with a competitive advantage in the market.
To obtain more information about our company and the products and services that we can offer you, you can use the main contact channels that we have available.