Are a family industry dedicated since 1978 to the design, manufacture and distribution of all kinds of School uniforms, work clothes and textile brand development projects.
Founded by a renowned industrial pattern maker, textile technician, and fashion designer, after four decades of growth and constant concern for continuous improvement, today we enjoy great recognition in the national educational sector thanks to a leadership established in excellence by provide our uniforms with maximum resistance, quality and innovation, complying with the commitments we make with our clients.
Antonio Camacho, teacher and founder of Camacho textile manufacturing since his youth, felt passion for fashion. Thus, at the beginning of the 1960s, his self-taught training as a tailor and pattern maker led him to study at the most prestigious exclusive school in Spain: La Academia Camps de Barcelona.
Our extensive experience allows us to have a broad vision of the market and to know exactly the real demands of the textile industry. We propose specific solutions to the specific needs of each client school, and we provide the necessary technical advice to successfully consolidate any textile brand development project, whether for school uniform, sports brand, labor uniformity. Our commitment is to offer a service that meets customer expectations.
We have facilities of 3,800m2 in Ayamonte (Huelva), where we develop the entire production process, from the purchase of fabric to the distribution of the final product. This optimized vertical production system and a team of 70 professionals allow us to meet a high production demand and have total flexibility.
We have a global production system and a team of 70 professionals, centralized in the same facilities, which allows us to have total flexibility, exhaustive quality control and very competitive delivery times, legitimized under numerous certifications, such as the quality seal ISO 9001: 2015.
"Our priority is to achieve the full satisfaction of the client, parents and schoolchildren".
A team of passionate professionals from the textile sector await you, to develop together with you, in a sustainable way, the uniformity project or textile brand you need. Dedication, experience and innovation are the hallmarks that characterize the Camacho Fabricación Textil team. Do you want to meet us?
Rocio Virella
Warehouse management
Logistics
Rocio Elías Fuentes
Point Section
Antonio Felix Garcia
Computing
Programming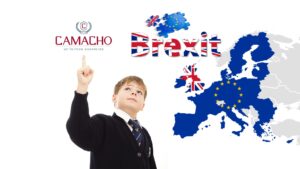 Blog
The departure of the United Kingdom from the European Union has dealt a severe blow to the economic and institutional relations between both parties, but also
See full article